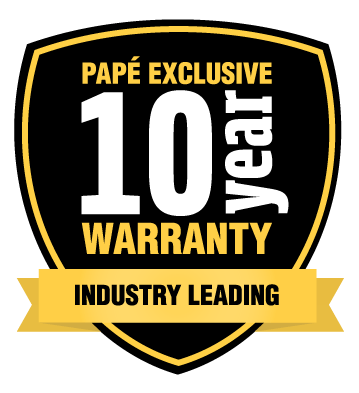 Papé Exclusive 10 Year Warranty
Heavy-duty knife drive and cutterbar for increased reliability
Heavy-duty multi-bat reel improves crop flow
Adjustable reel-cam track to control crop release
Header index ensures optimum platform speeds
HP

22.4*

PTO HP

15.3

Transmission Type

Hydrostatic - 2 Range

2WD or 4WD

4WD

3PT Hitch

Category 1

Cab or Open Station

Open Station
Oct 06, 2016
A workhorse
I bought my 1025R in March of 2016 with a H120 loader, a 5' rear blade, and have since added the quick change pallet forks (not the clamp on type). I have only .75 acre but care for my home myself. Having had 2 back operations and 2 titanium slugs placed on the upper and lower spine, I needed to avoid lifting, stooping down, twisting, and generally stressing the back which is the sole purpose for buying the machine. I have 34 hours on the machine now without a single problem. Trimming shrubbery standing up and placing them in the loader bucket or on the pallet forks at waste height is a blessing. I used it to dig irrigation pipe ditch and cover it back up. I carry trimmings to a yard waste and simply raise the bucket and dump it. No bins, no cutting to length, no raking, no shoveling. My back loves it. Lifted and installed a gun safe with no problem. Carried concrete pavers, loaded and unloaded pine bark mulch. Great machine. I should have gone one size bigger but the 1025R is a great machine.
May 07, 2018
Does everything well
I bought TLB, Love it!! I added 9 iron finish mow deck, 48" Shredder and 48" Box blade. I have 5 acers, 1/2 mile dirt drive way. This unit works great, easy to use. I love the hydro trans and driver over finish mow deck. Very fast to swap out attachments. I'm very surprised the power this unit had for its size. This is a unit you will keep for years. Having this 1025r for over a year and 300 hours on it, I have to say, my John Deere starts and runs like new, Does not leak a drop, I do take good care of but I do keep out side all the time. All I do is keep oil changed (with maintenance agreement) and keep sprayed off. Very good unit, Bach hoe attachment more useful than I though I would ever use.
Feb 22, 2016
ONE HECK OF A TRACTOR
I was skeptical of these small tractors. Boy was I surprised. Bought it less than a year ago and it's done everything I've wanted it to do. From mowing grass to tilling to blowing snow with the rear mount blower. Has plenty of power and have about 110 hours on it.
Oct 31, 2017
GREAT TRACTOR FOR 4 ACRES OR LESS.
Bought a 1023E for my 2 acre home. Best investment I could have made. I bought mine with a bucket, rear blade and 54" quick release mower deck. The lot needed work, with this little work horse it took no time to level and improve it. Easy to use, powerful for it's size, which makes it just right to fit in the barn and get around tight spots. Unfortunately, too many neighbors are jealous and want to borrow it. It even came in very useful for unloading some heavy equipment (400+ lbs) from my truck recently. Much better than buying a lawn mower and trying to load it up with accesories, this gem is designed to work with buckets and blades.
Video section title
Video Title
Video Title
Other Items You Might Be Interested In
* See the Limited Powertrain Warranty for new John Deere Sub-Compact and Compact Utility Tractors at dealer for complete details. Monthly payment do not include attachments or implements featured in product images. Offer ends October 31, 2019. Subject to approved credit by John Deere Financial. Monthly payments are based on an amount financed at 0% down payment. The quoted payment per month will create an estimated total of payments for the transaction and a repayment period of 84 months if only the minimum required payment is made. Taxes, freight, setup and deliver charges could increase monthly payment. Incentives vary per tractor model. Some restrictions apply. See dealer for details.